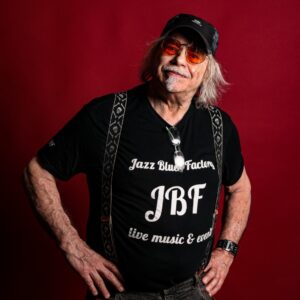 SONO DANIELE BOMBASARO  IL PRESIDENTE DI JAZZ BLUES FACTORY "JBF", ASSOCIAZIONE CULTURALE
NATA ALL'INIZIO DEL 2020 E CHE HA RACCCOLTO NELLA SUA SQUADRA   MUSICISTI E BANDS  FUORI DAL
CIRCUITO UFFICIALE  MA DI ELEVATA PROFESSIONALITA'  ED ESPERIENZA NEL SETTORE !  "JBF" NON E'
SOLO BLUES E JAZZ, MA SI INTERESSA MAGGIORMENTE DI VALIDI PROGETTI  CHE AGGIUNGONO
CONTAMINAZIONI CON LA MUSICA LATINO AMERICANA , ROCK ED ANCHE ELETTRONICA . "JBF" E' UN
CONTENITORE DI ESPERIENZE MUSICALI A 360 GRADI .  HO LAVORATO PER QUARANTA ANNI QUASI
ESCLUSIVAMENTE CON ARTISTI STRANIERI IN ITALIA E  DAL 2020 HO APPROFONDITO LE MIE CONOSCENZE
TRA ARTISTI, BANDS ITALIANE E STRANIERE DI INCREDIBILE INTERESSE.
SPAZIANDO NEL SITO WWW.JAZZBLUESFACTORY.COM  TROVERETE LA PRESENTAZIONE DELLA SQUADRA
ARTISTI  CON BIO, FOTO, CONCERTI IN ARRIVO , NOTIZIE , ECC .  IL SITO SARà IN CONTINUO SVILUPPO
JAZZ BLUES FACTORY E' IN GRADO OLTRE A PROPORRE  I SUOI ARTISTI ORGANIZZA EVENTI, SERVIZI PER CONCERTI , TOURNEE ECC. Per qualsiasi tipo di richiesta rivolgetevi a:
CELL +39 324 626 6658
Our dear English language friends, please let me introduce myself first: I'm Daniele Bombasaro, the president of the association JAZZBLUESFACTORY (JBF). I need to apologize that currently our site is almost exclusively in Italian, but rest assured that you can contact us via the contact form, via comments written below this blog post or by phone anytime you like, in English. You might be surprised with the genuine British accent you'll hear when we answer the phone! In the future our site will be available also in English, but for the time being you can at least enjoy some nice music videos that many of the artists have on their pages (just choose the menu "Artisti" – not real rocket science) and browse the individual musicians and groups we are working with. More concretely, the first concerts after the long break caused by the Covid-19 will take place already this week: Francis Kuipers will start with a set of concerts next Friday, on the beautiful island of Sardinia. At this stage we would appreciate all possible comments, ideas and feedback from all of you, so we can develop our activities – including this site – in a direction that best serves your needs.