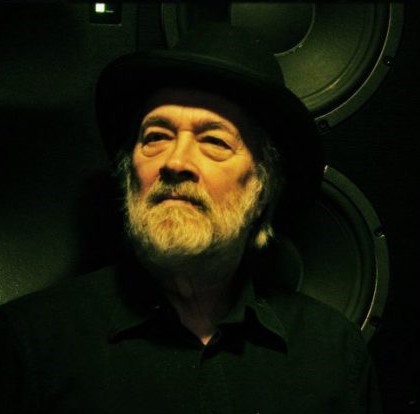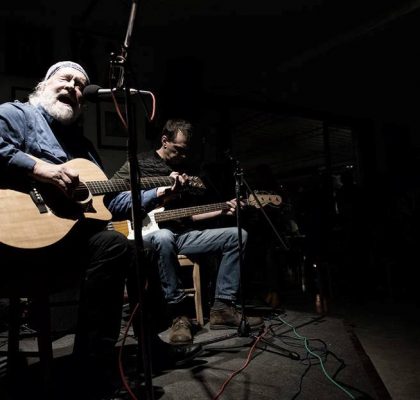 FRANCIS KUIPERS "Superguitar"
"HIGHLY ORIGINAL ACOUSTIC BLUES/ROCK"- Blues Magazine.
Biografia
Francis "Superguitar" Kuipers è per metà inglese e olandese. Nato nel 1941, vive in Italia da molto tempo. Per anni fu chitarrista di Gregory Corso, grande poeta della Beat Generation. In Italia, Francis Kuipers è soprattutto ricordato per i suoi spettacoli al Folkstudio di Roma e per molte trasmissioni radio per RAI III. Gli amanti della buona musica si sono appassionati ai suoi spettacoli in tutta Italia soprattutto negli anni Settanta e Ottanta. E' stato ascoltato, dal vivo, da solo, o in duo con: Luis Agudo, Antonello Salis, Massimo Urbani, Champion Jack Dupree, Dario Toccacelli, Renzo Bagorda, Enrico Micheletti, Jo Garceau, Janet Smith, tra altri. Ha suonato come solista alle Università di Trento, Urbino, Pisa, Roma, Milano, Bologna, e presso i maggiori teatri. A Roma si è esibito al Folkstudio, Music Inn, Alexanderplatz, Teatro degli Artisti, Teatro Goldoni, Teatro Tenda, Villa Ada, Piazza Navona, Piazza del Popolo, Terme di Caracalla, tra altri. A Milano ha suonato al Ciak, Liberty, Smeraldo, Vigorelli, Palazzo dello Sport, Le Scimmie, e in molte città italiane: Trento, Messina, Cagliari, Sassari, Genova, Merano, Bolzano, Torino, Verona, Venezia, Bari ecc. Ha partecipato a numerosi festival, tra quali Pistoia Blues, Lugo Blues, Narcao Blues, Sardegna Jazz, Folkstudio Festival e il Festival Nazionale dell'Unità a Torino. È stato ospite di Francesco de Gregori nel tour estivo del 1989, in Italia e Svizzera.
Il compositore di colonne sonore, per molti film vincitori di premi, Kuipers collabora spesso con il regista Godfrey Reggio (i film Evidence e Anima Mundi con music di Philip Glass, prodotto da Bulgari; Naqoyqatsi prodotto da Steven Soderbergh). Ha composto la musica per il film Mary, di Abel Ferrara, con Juliet Binoche, Forest Whitaker, Matthew Modine e Heather Graham, vincitore del Gran Premio della Giuria, 2005 Festival di Venezia e il premio Signis. E' compositore della musica, con la voce di Grace Jones, per Go Go Tales di Abel Ferrara, con Willem Dafoe, Asia Argento, Bob Hoskins, Julia Miles. Ha composto la musica per The Last Day On Earth, di Abel Ferrara, con Willem Dafoe, e per il docu-drama Napoli, Napoli, Napoli di Abel Ferrara.
Kuipers ha creato numerosi programmi radiofonici che avevano come argomento la musica, il suono e l'impatto che questi elementi hanno sull'ambiente mondiale. Dal 1995 al 1998 ha diretto il Dipartimento di Musica e Suono di Fabrica, il rivoluzionario centro di Comunicazione Multimediale ideato da Oliviero Toscani e Luciano Benetton.
Blues Disastroso, il romanzo di Francis Kuipers è pubblicata da 'Fingerpicking.net', in lingua italiana; la versione inglese da Barncott Press (Inghilterra). Racconti di Francis Kuipers sono stati pubblicati dalle riviste Ambit (Gran Bretagna), Autrements (Francia), Avvenimenti, Juliet, e nei libri Toscana, Toscana di Ornella Tondini (La Mandragora), Folkstudio Story di Dario Massari (Studio Forma), tra altri.
Le sue incisioni sono state pubblicate tra gli altri da Vedette, Red Records, Durium, Fonit-Cetra, Fabbri Editori, Folkstudio Records, Gypsy Records, Milan Records.
Blindfold Blues, CD; Napoli, Napoli, Napoli, CD; Kings of Lies, CD. Francis Kuipers Anthology, CD; Francis Kuipers, Mary, CD; Francis Kuipers Country Concert, CD; Gregory Corso with the music of Francis Kuipers, LP; Jo & Francis, Folk & Spiritual, LP; Francis Kuipers, Folk, Ballad, Spiritual, Blues, Folk, LP; Francis Kuipers & Dario Toccacelli, Country & White Spirituals, LP; Francis Kuipers, Superguitar, LP; Francis Kuipers, Shake That Thing, vinyl single; The Superguitar, vinyl single; L'altra America Canta, a cura di Piero Pieroni, Audiocassette;  Francis Kuipers, Blindfold Blues, CD; Kings Of Lies, CD; Francis Kuipers, Isola Anonima, CD.