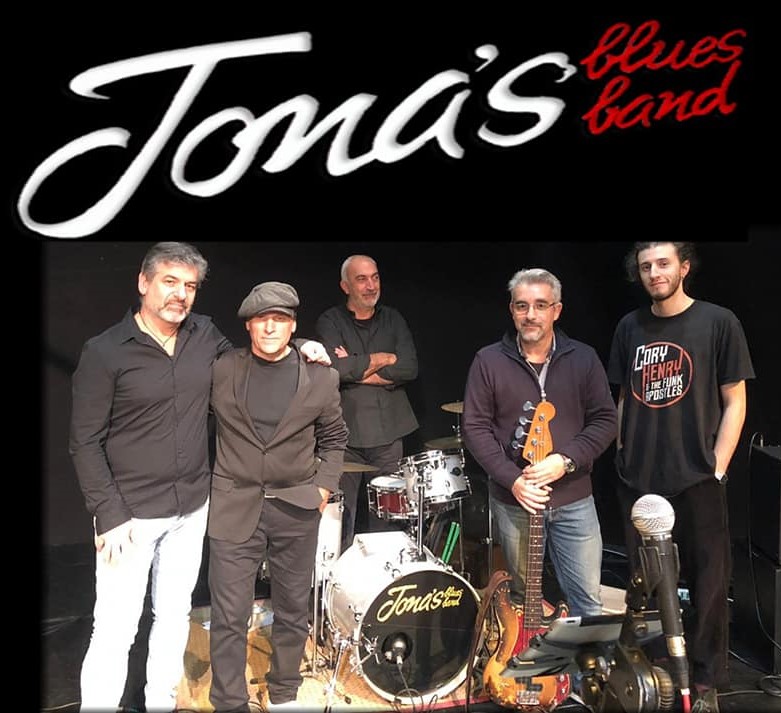 JONA'S BLUES BAND
Jona's Blues Band è un gruppo storico del blues romano sulle scene da ben 35 anni (!!!):
La band nasce a Roma nel 1985 dall'incontro tra quattro ragazzi amanti del blues ed della musica nera, nonché autori di brani originali. Nel 1987 la band incrocia le sue strade con quelle del cantante e musicista afroamericano Harold Bradley, fondatore del mitico club Folkstudio, e iniziano ad esibirsi con lui in numerosi clubs e festivals. Terminata la collaborazione con Bradley, la band prosegue sulla propria strada realizzando l'album "Check it out", con brani originali e autoprodotto.
Nel 1994 suonano al Pistoia Blues in apertura a John Mayall.
Nell'arco degli anni collaborano con artisti del calibro di Herbie Goins, Shawn Logan, Chicago Beau, Deitra Farr e Tony Scott.
Una curiosità: La Jona's Blues Band, durante l'attività live nei club romani, entra in contatto con Carlo Verdone, grande amante del jazz e del blues e li invita a partecipare ad una scena del suo film "Maledetto il giorno che ti ho incontrato" dove eseguono un brano di loro composizione.
Dopo qualche anno di pausa la band si riforma con i tre quarti della formazione originale e realizza il cd "Back to life" dove partecipano molti degli artisti con cui hanno collaborato, oltre ai super ospiti Renzo Arbore e lo stesso Carlo Verdone (alla batteria in un brano!).
Seguono collaborazioni con il bluesman di Chicago Fernando Jones con cui realizzano l'album "Jona's meets Jones" (2015) ed il chitarrista statunitense Mark Nomad.
Nel 2016 si esibiscono, in una serata in memoria di Herbie Goins, con l'armonicista e cantante Paul Jones (Manfred Mann, The Blues Band).
La band è composta attualmente da tre dei membri originali Gianni Franchi (basso e voce), Ranieri De Luca (batteria), Marco Corteggiani (armonica e voce), a cui si sono aggiunti Francesco Lattanzio (tastiere) e Luca Biasini (chitarra), e si appresta a festeggiare i 35 anni di attività .
In questo periodo di quarantena forzata collaborano con la cantante afroamericana Ms. Fatimah Provillon, (Music is Life) con cui hanno realizzato il video del brano degli Staples Singers  "Respect Yourself" e "Just Two of Us", che potete vedere sulla questa pagina.