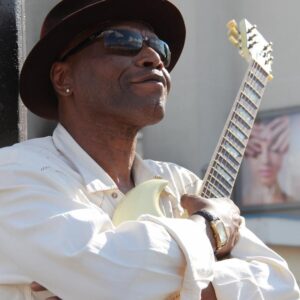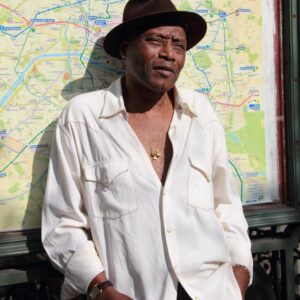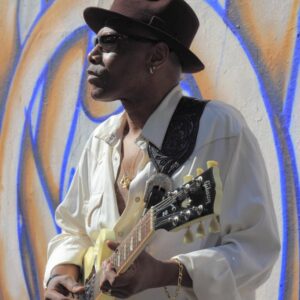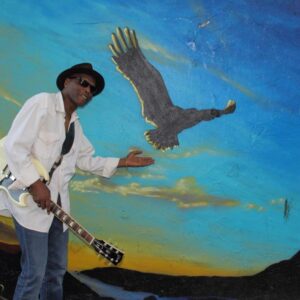 RON SMYTH
Ron Smyth, Born in New Jersey, USA. Raised in the church, mother an evangelist. Earliest musical experience singing hymns alongside his older brother and three sisters. Following the rhythm of his mother's fiery sermon, and the colors of the flow of hisgrandmother's residuals.
His sister Phyllis, "Helen Ferguson & the Personalities, ("Boy from New York City" covered by Manhattan Transfer), along with his uncle, Freddy Pinkard (Billy Ford and The Thunderbirds). Introduced him to the world of the musician at a young age. He would regularly accompany them to various rehearsals and gigs. This, allowed him to meet and mingle with some of the great musicians of our time, and introducing him to hismentors, Pharaoh Sanders and George Clinton. He began his road playing guitar in his band.
He joined the New York rock reggae group "The Full Hand Band", touring America as headliners and support for groups Taj Mahal, Steel Pause, Peter Tosh, N,R,B,Q, just to name a few. Later to form Ron Smyth + AK-47.
His musical inspirations are from a full 360 of style. From Bob Marley, introduced by his lifelong friend, Wailers guitarist, Al Anderson. George Clinton, whom he has known since childhood. High School friend Richard Lloyd (television). To his personal reintroduction to the blues, by the late great U.P. Wilson and Luther Allison, personified by World Tours with his son Bernard.
Ron is currently writing and performing with France harmonist Jean Jacques Milteau.
Discography:
Foolin' Yourself (Delron Music)
Tryin' (Delron Music/ RCA records)
Bad Ronald (Delron music)
Plan 9 (Delron/ Fairplay records)
Let It Shine (Delron Music)
Discography with Jean Jacques Milteau:
Soul Conversation (Dixie Forg)
Galvin Milteau Robinson Smyth (Sony music)